Video marketing is known for its sky-high ROI, and we can vouch for that.
However, winning customers and revenue from your videos isn't as simple as uploading them to YouTube and calling it a day.
The good news? Coming up with a successful video marketing strategy doesn't have to be rocket science.
Before you make any significant investment in video marketing, make sure you can answer these three key questions first.
1. Where Will Your Video Be Published?
The beauty of video is that you can publish just about anywhere. 
But where you publish and promote your video really depends on your goals. Having a destination in mind makes it easier to plan out your content including how long your video needs to be and how to format it.
Consider how marketing videos are fair game for any combination of the following:
Your homepage
Product pages
Landing pages
Social media (and social ads)
Pre-roll YouTube ads
YouTube, Vimeo or even television
For example, the majority of marketers note that shorter videos perform best for YouTube pre-roll ads. Meanwhile, many brands roll out bite-sized video campaigns that are prime for social sharing. Here's a great example from Grammarly with over 12 million views.
On the flip side, longer-form video is noted to increase conversions by 80% or more on product and landing pages. Here's an excellent example of a hybrid animation and real-world video from Bellroy's homepage.
2. What's the Purpose of Your Video?
Another noted benefit of video is its ability to win over customers at any stage of your marketing funnel, including:
Awareness
Consideration
Conversion
Loyalty
Advocacy
For example, you can use video marketing as part of your lead generation strategy to attract top-of-the-funnel leads and people who don't know you. Here's a compelling introductory video from Blue Apron.
Additionally, you can use video to educate prospects and current customers alike as to why they should consider your product. Check out how MailChimp sells themselves as a "complete" email marketing solution to customers.
You can also use video to highlight brand advocates and success stories. That's precisely what Salesforce did in this video about how T-Mobile leverages its platform.
3. How Are You Measuring Success?
Metrics are the most important aspect of highlighting an ROI for any sort of digital advertising. Video is no different. 
Whether it's via YouTube or social video analytics, you need to know your numbers.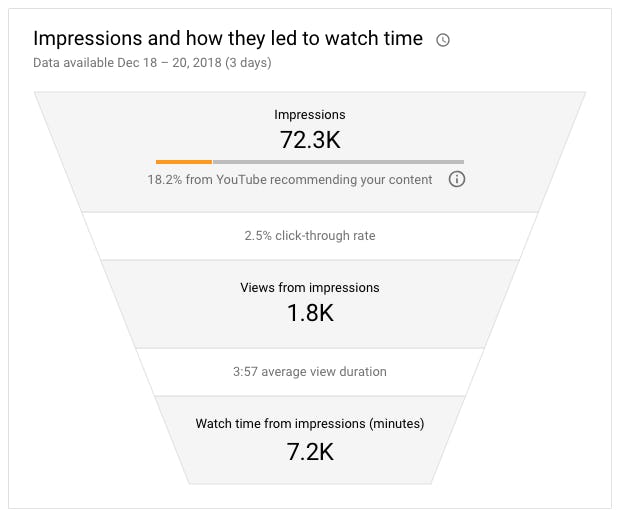 Some key metrics to watch include:
Impressions  - How many times your video was contained in the viewable space of the browser window.
Views - How many times your video was watched (unique views mean how many individuals have watched your video versus repeat viewers)
Time watched - The amount of time someone spends watching your video (think: 15 seconds or 50%, etc.)
Click-throughs - The number of clicks your videos received (calls-to-action in the description or on-screen)
Conversions - The percentage of people who clicked-through your video who are in your funnel to become customers.
Demographics - Information such as age, gender, and location that you can measure against your target audience.
For example, views might be seen by some as a vanity metric. But if a small business scores tens of thousands of views, that's obviously a good sign that they're gaining traction.
Meanwhile, those trying to increase conversions and lower their bounce rate would want to focus on time watched.
And again, what you focus on really depends on your goals.
Video marketing has become an increasingly popular strategy across various industries, including finance, crypto, healthcare, and sports. In the finance industry, video marketing can be used to educate consumers about different investment options or financial products. For the crypto industry, videos can be used to explain the complexities of blockchain technology and cryptocurrencies. In the healthcare industry, videos can be used to showcase medical procedures or provide health education to patients. And in the sports industry, videos can be used to promote teams or athletes, showcase game highlights, or provide training tips to aspiring athletes. Overall, video marketing is an effective way to engage with target audiences and build brand awareness in a visually compelling way.
Learn more about Successful Marketing for an Athletes Brand
Ready to Roll Out Your Next Video Campaign?
Whether you're after more traffic, more customers, or simply want to raise brand awareness, you're going to need to make a few key decisions before getting behind the camera. By answering these questions before producing your marketing video, you can make your investment with some much-needed peace of mind.