If you don't know what you're looking for, researching live streaming platforms, software and video production companies can be daunting. There are so many factors to keep in mind when searching for the best solution for your brand.
But lucky for you, you've found this article. So maybe you know enough to know what to type into Google, but we're betting you also know enough to weigh your options on whether it's worth paying for a live streaming company. 
Ultimately, you need a solution that can grow and scale with your brand, has all the features you want and is within budget. Just those simple things. So easy!
As always, we're here to help you get clear on what matters most and help you find the most seamless solution for your needs. 
So we'll start with the basics. Like, what live streaming is, how production companies help and how to choose the best option for your event.
If at any point you have questions, hit the chat button in the bottom right corner of this article. This will connect you with a Colormatics team member.

What is Live Streaming Video Production?
A live streaming video production is similar to a live television production, except a video stream is broadcast over the Internet rather than a traditional television network. 
Think Hulu instead of NBC.
Live streaming, or webcasting, is unique because it gives your audience a real sense of being there. 
What does a Live Stream Production Company do?
A live stream production company is a strategic partner during an event. They help brands present and share content with viewers all over the world—ensuring the live stream effectively communicates your brand message in a way that resonates with your audience, leaving a lasting impact. 
Other responsibilities include assisting with run-throughs, verifying camera and audio quality. And helping to ensure any pre-recorded and live stream video footage remains in-line with the desired tone. 
The assurance of a well-produced and run live stream means brands can find priceless value in partnering with the right live stream production team.
How to Choose a Live Streaming Company
So, we know that the role of a live streaming company is to help facilitate the live broadcast of corporate virtual events.
What qualities should brands look for when choosing a live streaming production company to partner with? If it were looks and personality we'd win every time. But luckily we have a few other qualifications.
Experience
An experienced video production company should have a well-put-together showcase of the type of work that they do. 
Look for high-quality visuals that are vibrant and jump off the screen. Along with audio that sounds like it was recorded in a studio with a smooth execution of the overall event.
If you can't find any examples of engaging live streams, move on to a service provider with a portfolio that matches your expectations.
Don't just stop there, look for social proof - or testimonials from their clients for in-depth insights as to what working with the agency is like.
In-Depth Knowledge
Ask about the company's production process. You're looking for a robust process that is able to create the kinds of complex live streams that perform. 
The producer should have an in-depth knowledge of and the ability to communicate how optimal lighting and interesting video angles help to create an engaging webcast. 
Additionally, familiarity with live video specifications of different popular channels and social media platforms is essential. 
Understanding the basic principles of dramatic storytelling and editing fundamentals may come in order to combine pre-recorded and live video footage flawlessly. 
High quality live stream producers will also be able to provide live stream event technical assistance and support, should complications arise. 
Management and Communication
Live stream producers are often responsible for ensuring the project's financial compliance to the given budget, taking into account big-ticket expenses such as location and equipment rental fees.
Based on the location and budget, the live stream producer is also in charge of hiring other production crew members: cameramen, special effects technicians, and lighting assistants.
Live stream producers would have to monitor the video's production timeline as well, so as make certain that the project is progressing accordingly.
If there are problems between the cast and crew and/or studio, the live producer is usually the one who would step in and mediate.
Quick Thinking
As with all other video and film productions, broadcast and live streaming productions consist of a capable team of individuals working together. 
If the production is to run smoothly, live stream producers must be able to effectively and quickly communicate with the rest of the crew, especially during live stream production itself, 'cause...it's live! And every moment counts. 
Here, quick thinking and an eye for detail are crucial as well, especially when working to produce video footage for a live audience.

Live Stream Production Process
The process by which live streams, or webcasts, are made will differ depending on your brand's goals and which production company you partner with.
Below is a brief overview of our live stream production process at Colormatics:
Strategy
The first step is always establishing the strategy. Together, we consider every detail of the event, including location.
Brainstorming live interactive ideas - so it's not a flat "view only" engagement. A script and run-of-show will be prepared and signed off by all those involved. 
Test, test and test again.
Test, rehearse with talent and pre-record. Pre-record as much content as you can. It looks way more professional and no one cares (or will know!) that it's pre-recorded. 
Making sure that you've tested going live and have had a test audience, will ensure that things run smoothly on the day of your event. 
Live Streaming Service Setup
Checking streaming service setup in advance is essential because some providers prevent live-streaming for 24 hours after you have activated that option.
Connectivity: WiFi or Cellular Signal?
Nothing is scarier then going live and having 100k+ potential clients watch your live stream cut out mid event. 
Are you on wifi or planning on using a cellular signal? Do you know how much bandwidth you're streaming at? 
Colormatics recommends more than 10MBS. Even when using broadband, wired is hands down a better than option than wifi.
Pre-Produced Video Assets
Video is such a powerful education tool because it can combine visual, audio, and text.
Plan your video assets out before filming. This can be product filming, on-location interviews, b roll, drone footage or just amazing graphics to introduce moderators and speakers. 
Not to mention, pre-produced video assets are a great emergency option should something need to be fixed.
High-quality visuals that are vibrant and jump off the screen. Along with audio that sounds like it was recorded in a studio with a smooth execution of the overall event. 
Live Q&A
Colormatics monitors all incoming comments and produces graphics to visualize those questions so the people on camera can respond to the questions in real time. 
Live Q&A makes for a very engaging segment and one of our favorites to help manage.
Sizzle Reels
You can release the entire stream and Colormatics can create sizzle reels to promote the past event. These bite sized video clips are perfect for social media.
If you want to learn more about what it's like partnering with Colormatics, take a look at this detailed live streaming case study.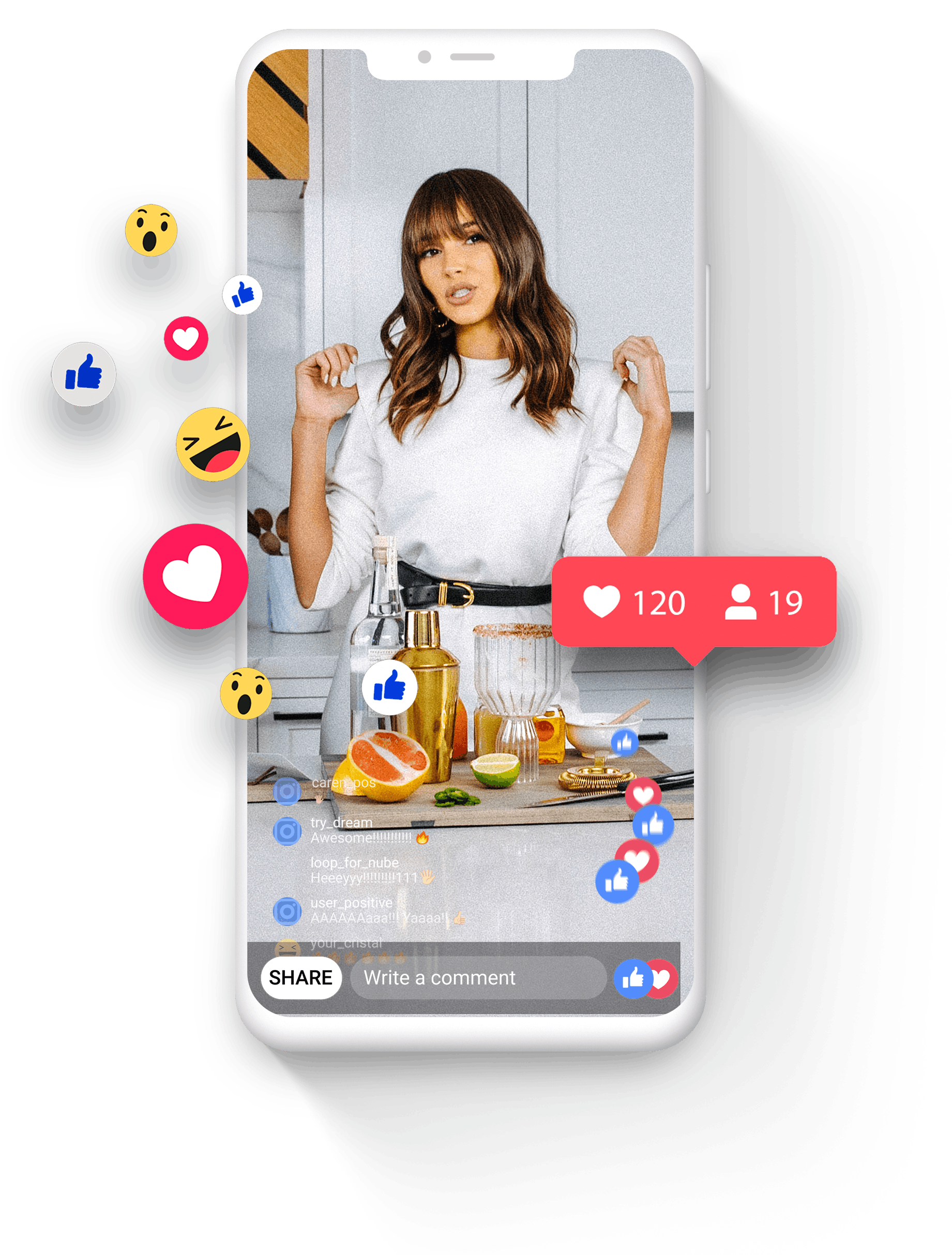 As COVID-19 has changed the world in every way, the launch party has become a thing of the past. 
Macy's private clothing label INC collaborated with Olivia, Sophia and Aurora Culpo for a
fabulous fashion line but had never launched a line without an in-person event.
Macy's turned to Colormatics to create a fun and engaging live program filled with drinks, interviews and fashion.
Curious to learn more? Check out how we made it work for Macy's, and what we can do for you, too.  
The Rising Influence of Top Live Streaming Solutions Companies
In the burgeoning field of digital media, a few top live streaming solutions companies stand out for their exceptional services. These industry leaders, offering live broadcasting services, have revolutionized live TV production with their cutting-edge technology and innovative approach. Live TV streaming services such as YouTube TV have transformed how audiences consume media, providing access to a wide array of content in real-time. With the advent of live TV streaming services, we're witnessing a paradigm shift from traditional broadcasting to more flexible and user-centric models, thus democratizing content consumption across the globe. The ingenuity and technical prowess of these companies have set new benchmarks in the realm of live streaming, redefining viewer experiences like never before.
Conclusion
If you're looking to broadcast your event or business to a wider audience, live streaming production services can be the perfect solution. Whether you need corporate video streaming solutions or a branded live stream, there are many options available to suit your specific needs. For agencies and businesses, live streaming can be an excellent way to reach potential customers and engage with your audience in real-time. With the best event live streaming services and a reliable live streaming platform, you can deliver high-quality live video streaming that's sure to impress. Platforms like YouTube Live are among the best live streaming platforms, but it's always worth doing a live streaming platform comparison to find the best live streaming platform for your needs.