TikTok is the fastest growing social media platform thanks to its short-form mobile video content that is not only exciting but genuine. As one of the most popular apps in the world, TikTok provides brands an opportunity to reach a large community of engaged users. 
The viral possibilities can launch a Brand from a niche audience to a household name. Take Public.com for example.  
Public.com went viral after the success of their TikTok campaign by Colormatics in early 2021. Gaining over 1M app users in less than a month.  
We are in that high-opportunity window where TikTok's reach is expanding at an accelerated rate without alienating younger users.  
Applying the principle that tech trends tend to speed up with each new cycle, we believe we are only seeing the early stages of TikTok's high-growth window. Right now is the time for your brand takeover ads to stake its ground on TikTok. 
TikTok has become an essential platform for advertising agencies to showcase their best advertisements. The best TikTok ads, such as those by Rocket Mortgage and other popular brands, effectively utilize the platform's unique commercial features, while adhering to TikTok's max file size of 500MB. With the best commercials of 2023 engaging viewers through short and dynamic content, many brands have begun following Facebook video ad length best practice, which suggests videos be kept between 5-15 seconds for optimal viewer engagement. By employing these creative best practices, companies can create compelling ads that captivate their target audience and position themselves at the forefront of the competitive digital advertising landscape.
This article covers why you should advertise on tiktok, video ad specs according to placement and how to optimize your ads for success. 
Why Advertise on TikTok? 
TikTok attracts a highly-sought after, hard to sell, audience: Gen Z and young Millenials. 
In a research study, conducted early this year by Nielsen, they discovered 43% of heavy TikTok users feel that the "advertising" on TikTok seamlessly blends in with the organic content enjoyed by the community on the 'For You' feed. 
Brands that are embracing the creative and authentic spirit of the community do really, really well, read our success stories article to learn from brands that are totally crushing it. Also, don't forget the branded hashtag challenge.
With its TikTok top feed attracting billions of users globally. Brands are now leveraging TikTok's massive reach by creating engaging ad campaigns that resonate with the platform's users. To do this effectively, advertisers must adhere to TikTok ad safe zone policies, which ensure the safety and authenticity of ads on the platform. With TikTok boasting over 100M active users in the US alone, marketers are adopting the best TikTok ad practices, such as branded hashtag challenges, brand takeover ads, and TikTok ad formats. Ad recall on TikTok is high, indicating that these strategies are paying off. However, brands must keep in mind the Twitter video ads specs while creating TikTok ad examples, as these will ensure that the ads fit seamlessly into the user's experience.
Keep reading to learn which video ad formats work best and how to optimize ads for TikTok specifically.
Optimizing Your Brand Reach
Platforms like Facebook and TikTok, with their diverse audience, have proven to be invaluable tools for businesses to reach potential customers. In this article, we'll delve into the world of TikTok advertising, discussing the best TikTok ads, ad specifications, successful campaigns, and the impact of influencer marketing.
TikTok is a global phenomenon, with user-generated content being its backbone. This platform gives birth to viral trends and influencers daily, allowing for unprecedented opportunities to engage users in ways that feel organic and enjoyable. Some of the best TikTok ads from 2021 that leveraged these opportunities are those of Chipotle and Elf Cosmetics, with their engaging challenges and appealing use of TikTok's unique features.
Understanding ad specifications is crucial for running successful campaigns on any platform, including TikTok. The Content.ad and Facebook ad specs from 2021, for instance, offer valuable insights into structuring ads effectively. While Facebook ad specs in 2021 included dimensions for images and videos, along with recommendations for text length, TikTok's approach leans more towards the creative aspect.
TikTok adverts feature in several formats like the TikTok TopFeed, Brand Takeover Ads, and the Dimensions Floor, each with its unique traits. The TikTok TopFeed, for instance, allows full-screen video ads that appear immediately when the app is opened, granting immediate user engagement. The Brand Takeover Ad is a 3-5 second full-screen ad that can be either a static image or a video, giving businesses an opportunity to capture users' attention even before they start consuming other content. The Dimensions Floor, on the other hand, is a newer ad format offering a more immersive and interactive experience to the users.
TikTok creators are the heart of the platform, producing content that engages, entertains, and educates their followers. They play a significant role in advertising on TikTok. In addition to creating content for their channels, they often collaborate with brands to create unique content tailored to their audience. This brings us to the next crucial element: influencer marketing.
Influencer marketing has proven to be a potent tool in TikTok advertising. Influencers, with their dedicated follower base, are capable of driving engagement and conversions for brands. By collaborating with influencers who align with your brand's values and target audience, businesses can reach potential customers in a more authentic, personalized way. User-generated content, a key factor in TikTok's popularity, and influencers promoting products or services can create a snowball effect, amplifying brand visibility and reach exponentially.
Lastly, understanding what made some TikTok campaigns successful can help you plan your ad strategy. For example, the Guess #InMyDenim campaign, launched in 2018, was one of the first and most successful branded hashtag challenges on TikTok. The campaign encouraged users to post videos of themselves in Guess' denim line, leveraging user-generated content to create a buzz around their products.
In conclusion, TikTok offers an exciting and dynamic platform for businesses to advertise their products or services. By understanding ad specs, utilizing various ad formats, harnessing the power of influencers, and learning from successful TikTok ads, businesses can design compelling campaigns that resonate with their target audience and drive results. So, get creative, engage with the TikTok community, and make the most of this powerful advertising platform.
Millennials and TikTok
Gaining massive popularity among millennials, the generation born between 1981 and 1996. With its short-form videos, music, and humor, TikTok has become a go-to source of entertainment and a way for millennials to connect with each other. TikTok has provided a unique space for millennials to express themselves and their creativity, whether through dance videos, comedic skits, or commentary on social issues. Additionally, TikTok has been instrumental in shaping millennial culture and influencing fashion, music, and social trends. With its addictive algorithm and endless stream of content, it's no wonder that TikTok has become a staple in the lives of many millennials.

Video Ads Specifications
Successful ads tailor their message to the platform and audience. TikTok outlines ad specs according to where the ad will be placed. 
There are two main ad placement options in TikTok: In-Feed and News Feed Series. Ad composition, aspect ratio, image resolution, file type, and ad duration are different for different ad placements.  
In-Feed Ads 
In-feed ads appear in a user's in-app feed. This is what an in-feed ad looks like: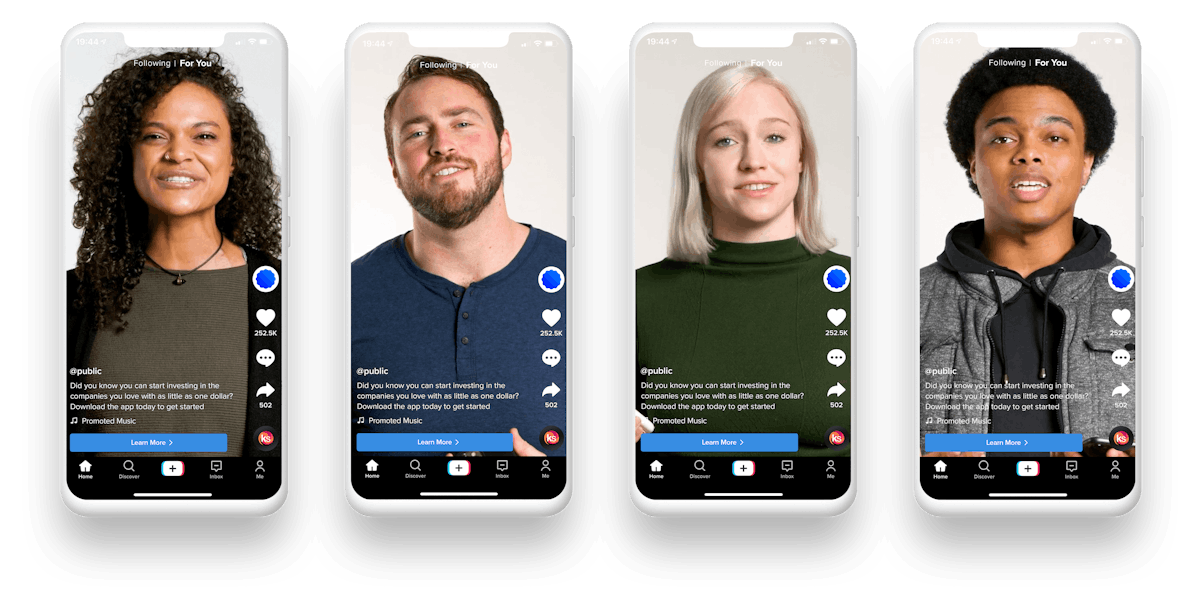 Tiktok Video Dimensions and Specs:  
Aspect ratio: 9:16, 1:1, or 16:9.  
Video Resolution: ≥540*960px, ≥640*640px, or ≥960*540px. 
File type: .mp4, .mov, .mpeg, .3gp, .avi  
Video Duration: 9 - 15s 
Video File Size: < 500 MB.  
Brand/App Names Specs:  
2-20 English character limit  
No Emojis  
Punctuation marks and spaces count as characters.  
Ad Description Specs:  
12-100 English character limit.  
No Emojis, curly braces, or hash symbols.  
Punctuation marks and spaces count as characters.
Maximizing Ad Impact: Navigating TikTok's Advertising Landscape
Creating the best TikTok ads involves a keen understanding of the platform's unique specifications and creative tools. Advertisers must bear in mind that the frame size for TikTok videos, or the TikTok video dimensions, follow a 9:16 aspect ratio, which is essentially a full-screen, vertical format. This frame size is specifically designed to maximize mobile viewing, making it essential for engaging ads. Utilizing the TikTok Ads Creative Center, advertisers can craft compelling content, tailor-made for their target audience. It's crucial to remember that, unlike Facebook, with its ad copy character limit, TikTok encourages more visually dominant content. The TikTok InFeed ads, similar in format to the short videos on the platform, offer an engaging and immersive advertising experience. If you're looking to merge videos, 'cara menggabungkan video di TikTok,' or how to combine videos on TikTok, is a simple process achievable through the platform's user-friendly editing tools. This allows advertisers to create seamless and dynamic ad narratives, capturing the attention and interest of TikTok's vast user base.

Tiktok Ad Length and Specs for News Feed Series 
TikTok ads can run in news feed series such as Buzz, BuzzVideo, and NewsRepublic. Ads that appear in these series have video specs different from in-feed ads.  
 This is what a news feed video ad looks like: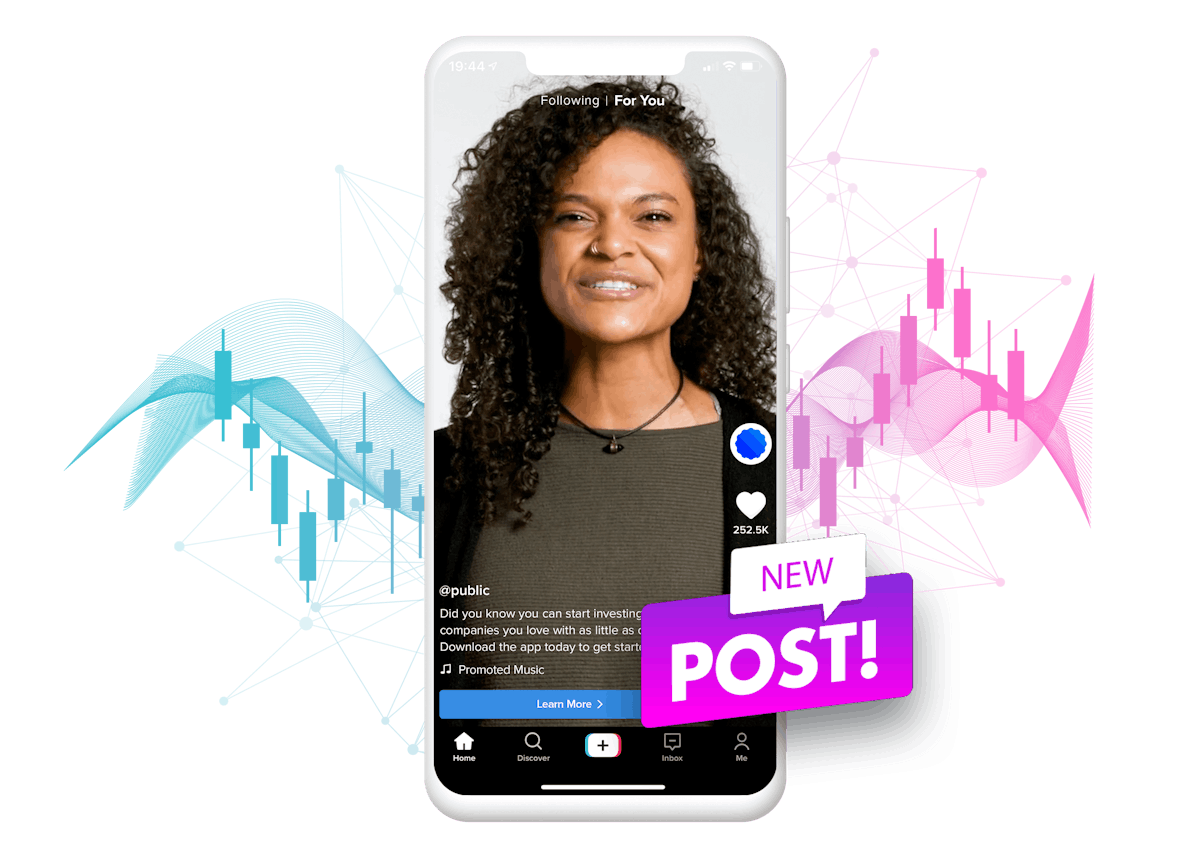 Specs for the ad video:  
Aspect ratio: 16:9 or 1:1. 
Video Resolution: > 720x1280 px.  
File type: .mp4, .mov, .mpeg, .3gp, .avi  
Video Duration: 5 - 60s.  
Video File Size: < 500 MB.  
 The specs for the brand/app name and ad description are the same as for in-feed ads. 
TikTok Video Ads Optimization and Tiktok Ads Manager
Advertising on TikTok challenges marketers to go beyond the traditional advertising approach and really focus on the audience.  
To succeed on TikTok brands need to optimize for the platform to create an authentic connection with their user base. 
 Colormatics helped Public.com go viral and have learned these 6 best practices can achieve amazing results. 

TikTok Video Advertising Best Practices 
Vertical videos will maximize user experience because tiktok is a vertical platform by nature. Making your video assets look as native as possible enhances user experience. 
Bite Sized Video because viewers' attention spans are short and when it comes to ads, patience is even more limited. The most powerful TikTok ads examples tend to hit between 10 - 25 seconds.  
Engaging visuals catch your users attention before being scrolled by. Hooking them with an eye-catching visual will improve the overall performance of the ad. 
Stay Centered because TikTok generally obscures the margin of frames its best to keep the most important elements, cue CTA and Brand Name, centered. 
Please Don't Stop the Music, remember tailoring your ad to the platform is important for a successful campaign. At its foundation TikTok is a music platform. All videos play with sound automatically "on." Matching your video ads with the right music will grab attention and increase engagement. 
Use Captions in the local language to get the gist of the video across before click-happy social media users abandon the advertisement. 
What makes a good TikTok Ad?
Creating a good TikTok ad requires understanding the platform's unique appeal, which centers around authenticity, creativity, and brevity. The ad should align with TikTok's fast-paced, user-generated content style and promote your product or service subtly and entertainingly, making viewers want to engage rather than skip. To complement this, the best TikTok thumbnail should be visually stimulating, able to catch attention in seconds. It needs to convey your ad's essence concisely, using vibrant colors, catchy text, and compelling images that resonate with your intended audience. Remember, your thumbnail is the gateway to your ad; it should be as captivating as the content it represents.
There's no need to go in blindfolded. Colormatics is a video production agency here to help bring your video dreams to life.  
 Hit the chat button in the bottom right hand corner of this article to connect with a Colormatics team member. We're fantastic, we promise.
In our latest marketing efforts, we've been focusing on optimizing our ad groups by meticulously designing ad creatives that truly resonate with our target audience. Our team has been dedicated to crafting compelling ad content that not only captures attention but also encourages users to engage with our brand. By combining visually appealing elements with persuasive messaging, we aim to inspire users to take action and create a memorable experience that fosters long-term relationships with our customers. 
TikTok has become a popular destination for advertisers looking to reach a younger audience. One recent TikTok ad girl name that gained attention was Bella Poarch, whose viral lip-sync video was turned into a paid advertisement. TikTok offers a range of ad options, including TikTok paid ads and TikTok spark ads examples, which allow brands to create interactive and engaging content. However, the platform has also faced scrutiny over issues such as falsified property values and the accuracy of property declaration altogether. To address these concerns, TikTok has introduced new measures to ensure transparency and authenticity, including activity streams that provide real-time data on user engagement.
Live Streaming
Live streaming is a popular way to share real-time experiences with an online audience. There are various types of live streaming, such as entertainment, gaming, education, and sports. Entertainment live streaming often includes music concerts, comedy shows, and talk shows. Gaming live streaming involves broadcasting video games, while education live streaming may involve webinars and online classes. Sports live streaming offers fans the opportunity to watch their favorite teams and players compete in real-time. In recent years, TikTok has become one of the most popular live streaming platforms, particularly among younger audiences. TikTok live streams cover a variety of topics, including dance challenges, cooking tutorials, and Q&A sessions with influencers.
When it comes to social media advertising, it's important to understand the specific requirements and specifications for each platform. For example, Facebook video ad specs dictate the size, length, and format of video ads that can be uploaded and displayed on the platform. Another platform that has gained popularity for advertising is TikTok. Many businesses may wonder if TikTok has ads, and the answer is yes! TikTok advertising provides opportunities to reach a younger demographic and create engaging content. Using TikTok for advertising requires a good understanding of the platform's unique features and user behavior. One aspect of this understanding is the activity schema data model, which outlines the properties defined for each user activity within the activity stream. This data model helps to filter out potentially malicious user input and ensure a safe and enjoyable experience for all users.